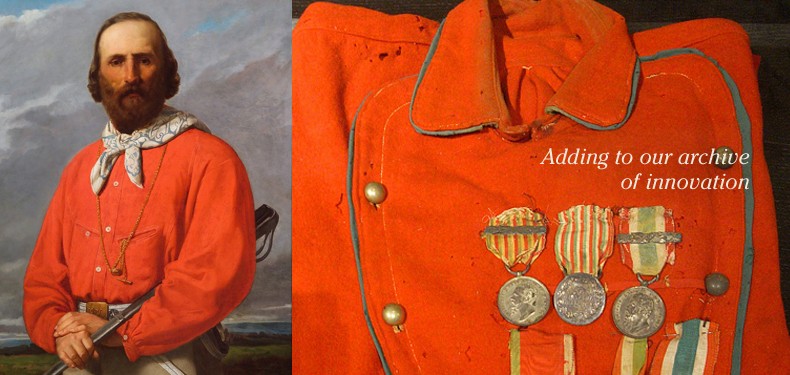 Limited Editions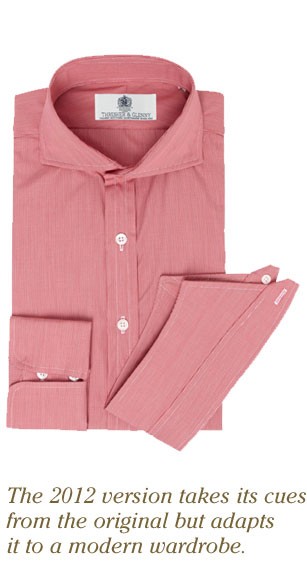 From time to time we introduce into our Made to Measure world
a design of our own. It is still made for you, but this time Messrs
Thresher and Glenny bespeak all the details.
Some are inspired by our heritage, others by modern notables.
Each will be made exactly as many times as we promise at its launch,
and then never again.
This time we have delved into our substantial archive for inspiration.
The Garibaldi Shirt

First launched 1834 - Re-modelled February 2012

Click to enlarge

The Coronation Tie

Created for George V in 1935 -

Re-modelled July 2013

Look up Garibaldi in an online dictionary and the first definition is usually a shirt. It's red, loose-fitting and often worn by dames. That's because the dashing hero of Italian unification inspired a fashion among the world's women by wearing, along with his Thousand, just such a garment.

Signor Guiseppe was very much un uomo, and his own shirts were always made by T&G. He spent some time in London drumming up support and picked up a taste for our shirts as befitting a leader of nations.

Thresher & Glenny celebrated the silver jubilee of King George V by designing a 'souvenir tie', blending 'the shades of His Majesty's racing livery in a manner that bears no resemblance to a club tie.'

Seventy-eight years on, Thresher & Glenny has produced 2013's tie from the finest spun silk with Her Majesty's racing colours very much in mind. The limited edition of 501, the first eleven of which have been presented to members of the Royal Family, will be on sale in Middle Temple Lane and online from 15 July priced £95 each.

It's a race to 501 - join the pack here