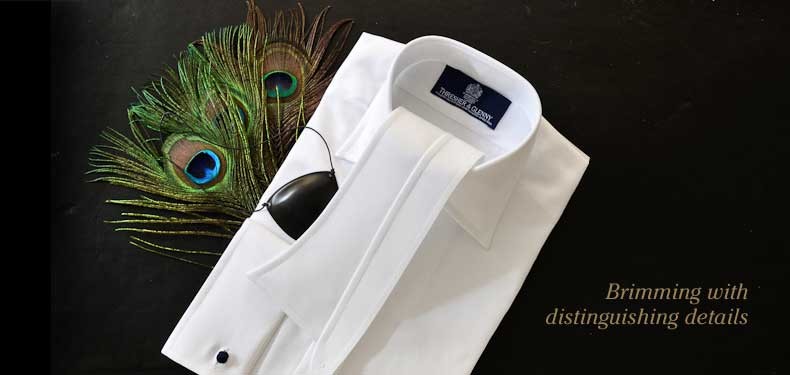 The Expert Shirt
A T&G shirt is quite unlike most other shirts. Each comes with:

Much attention has been paid to the fit throughout the size range. As an example, after Size 18 collar the shirt is re-blocked
in a less waisted style, while smaller sizes are cunningly tapered.
We could go on. As you may gather, it's something of an enthusiasm with us.
Spare Collar

So that when the original eventually frays we
can replace it (free of charge, naturally)
with cloth from the same batch


Peruse our Ready-To-Wear Shirts

2 Sets Of T&G Collarbones

One 7cm long (for extra crispness
with a tie) and one 6 cm (for wearing undone at the neck)

Peruse our Ready-To-Wear Shirts

Superlative Fabric Quality

From two-fold 100s to excellent value
Egyptian cottons and top-of-the-range TRUE Sea Island Cotton,
as verified by the rare hologram label of the West Indian
Sea Island Cotton Association

Peruse our Ready-To-Wear Shirts

The T&G Cuff

Specifically designed to guarantee the outer
section the prominence it deserves

Peruse our Ready-To-Wear Shirts

Cuff Knots

A pair of elegant knot cuffs in T&G blue

Peruse our Ready-To-Wear Shirts

Extra Holes In The Double Cuff

For fine-tuning the sleeve length

Peruse our Ready-To-Wear Shirts

Discreet Peacock

A discreet peacock embroidered on the cuff guard

Peruse our Ready-To-Wear Shirts

French Seams

French seams on side and arms, for strength and comfort

Peruse our Ready-To-Wear Shirts

High Stitch Density

A high stitch density throughout, for longevity and general tone

Peruse our Ready-To-Wear Shirts

Bluff-Stitched Label

To avoid pointed corners and discomfort when worn

Peruse our Ready-To-Wear Shirts

Floating Interlining

A floating interlining for each non-fused collar placket
and cuff, being true to a traditional British Tailored Finish

Peruse our Ready-To-Wear Shirts

Elegantly Thin Buttons

In shell or Mother of Pearl

Peruse our Ready-To-Wear Shirts

Finer Buttonhole

A finer buttonhole and button on the collar, for ease of closing

Peruse our Ready-To-Wear Shirts

Crescent Detail

A crescent detail in each side seam

Peruse our Ready-To-Wear Shirts

Single-Pleat Sleeve

To banish any hint of puffiness

Peruse our Ready-To-Wear Shirts

Tighter-Tailored Arm Aperture

So that when that limb is lifted the tail - itself longer,
like that of the peacock – remains tucked in.

Peruse our Ready-To-Wear Shirts

Split-Back Yoke

Cut on the bias for extra comfort.

Peruse our Ready-To-Wear Shirts

A Royal Warrant for Shirt-Making

We have made many clothes for monarchs and their households, but it's for the shirt that we currently hold our continuous Royal Warrant. When one's collars and cuffs are under constant scrutiny, it's almost impossible to be too careful